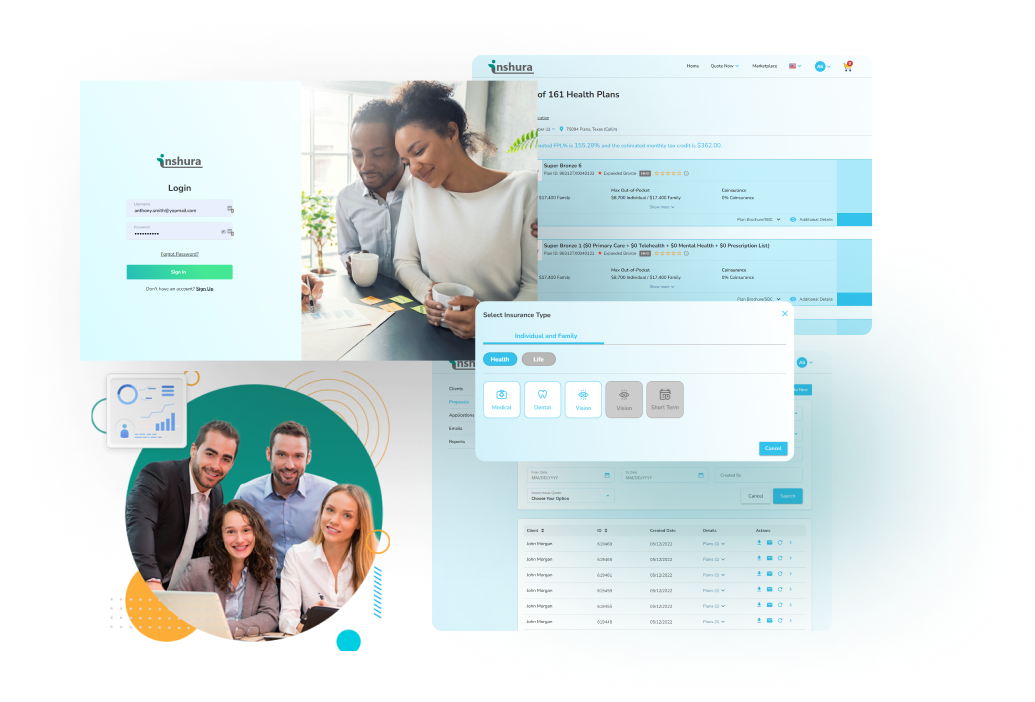 FREE One-Stop ACA Enrollment Solution for Agents and Agencies
Quoting, enrollment, and renewals made easy.
Book of Business Management for the modern agent.
Here's What inshura Does for You

Ultra-fast Plan Comparisons
We do the hard work, so you don't have to. Once you select the best plans, your presentations are clear and easy to understand.


ACA and Beyond!
More than just health insurance, we help you upsell dental, vision, and other ancillary coverage to your clients.

You'll know the status of every application. Sending reminders to customers is easy, and you never need to log into Healthcare.gov.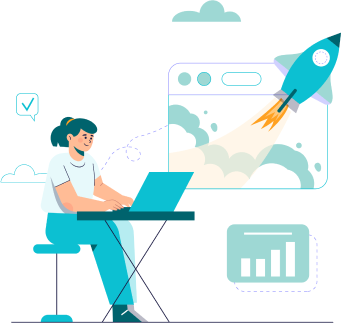 Inshura saves you time enrolling and supporting clients, giving you more time to build great relationships.

Inshura is protected and secured with encryption, firewalls, DDoS protection, Data Redundancy, and much more.
Quickly configure and quote in minutes.
Add carrier appointments and State licenses with ease.
Personalize your website with your branding for a professional look.
Track your SEO progress with Google Analytics.
Choose the ancillary products best for your customers.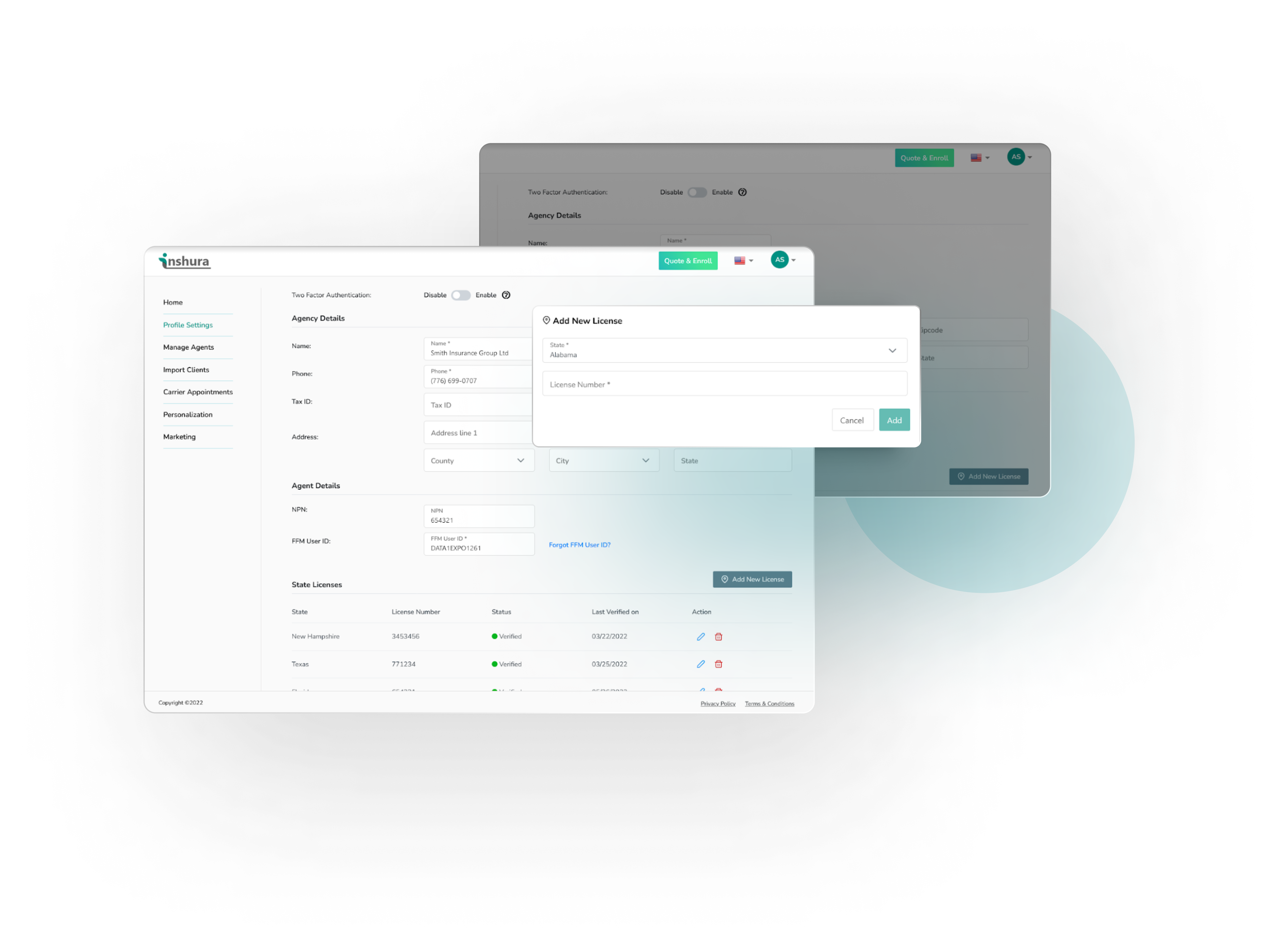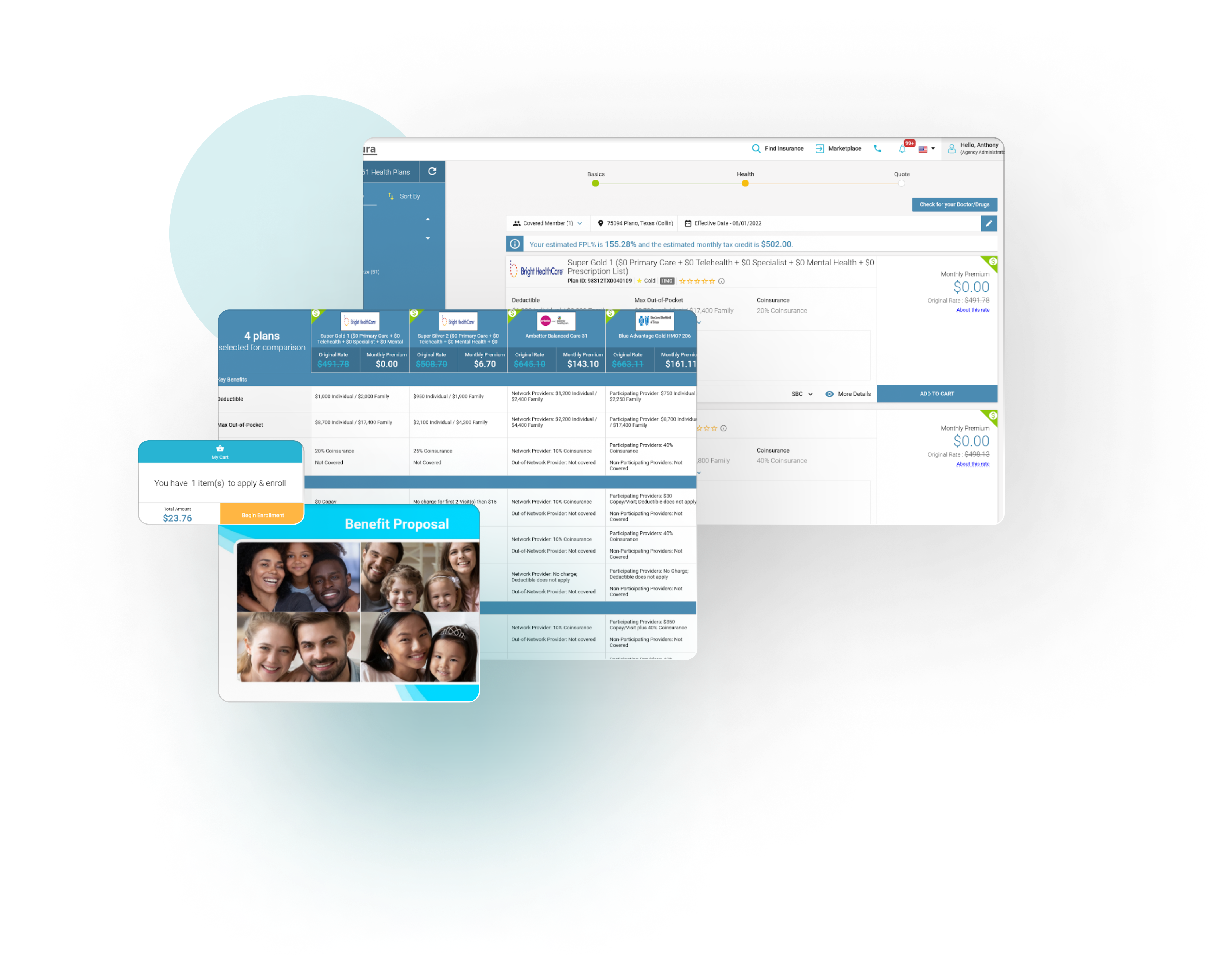 See all ACA plans with subsidy estimates and off-exchange plans. 
Upsell dental, vision, and other ancillary plans. 
Find plans that include your customers' Prescriptions and Providers.
Accurately compare cost and benefits, and find the BEST plans.
Create great-looking proposals in PDF or Excel. 
Make it easy for customers to shop and enroll through your branded site.
Increase sales and loyalty with a seamless, branded experience.
Get the sale – your NPN number is on each enrollment.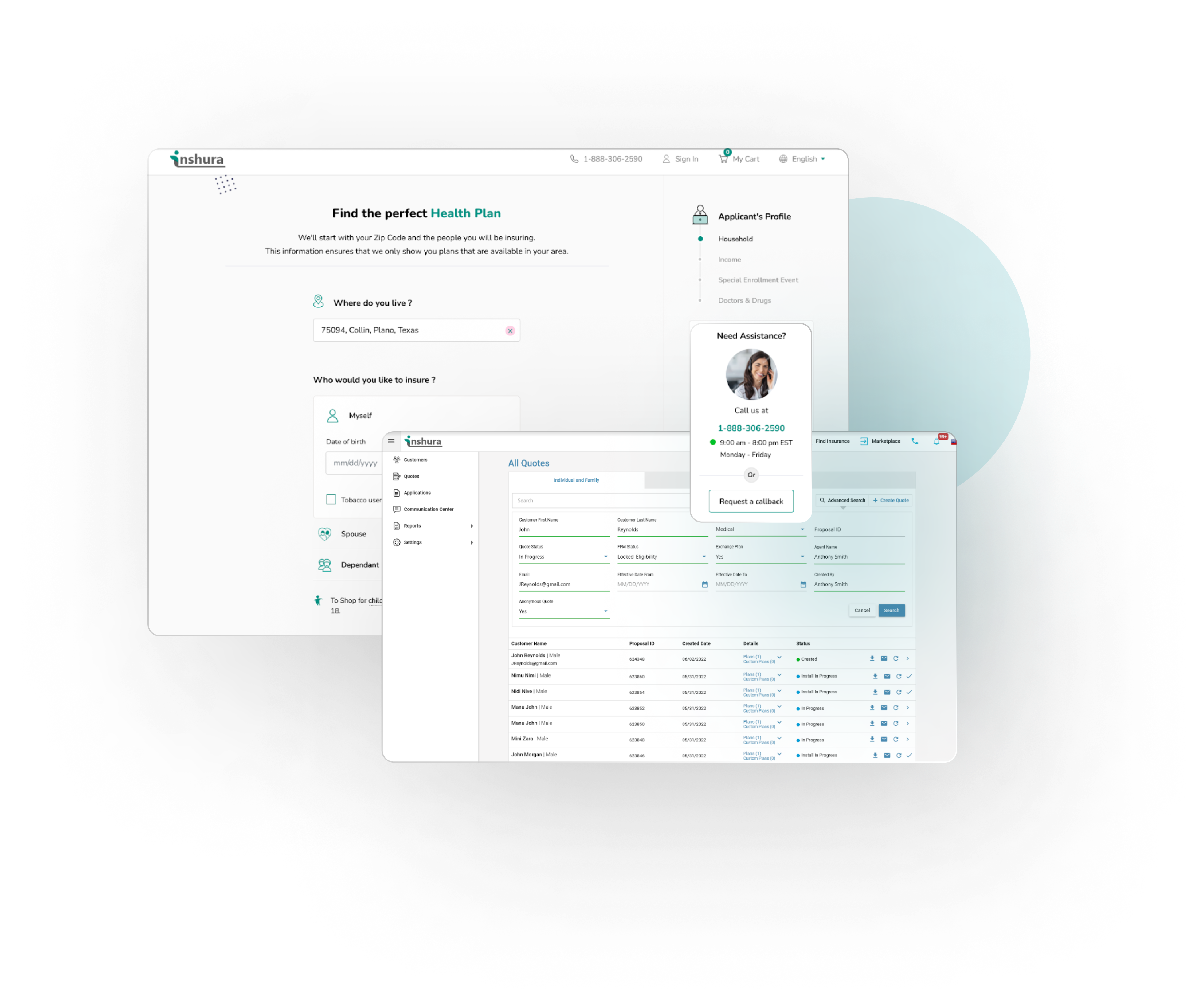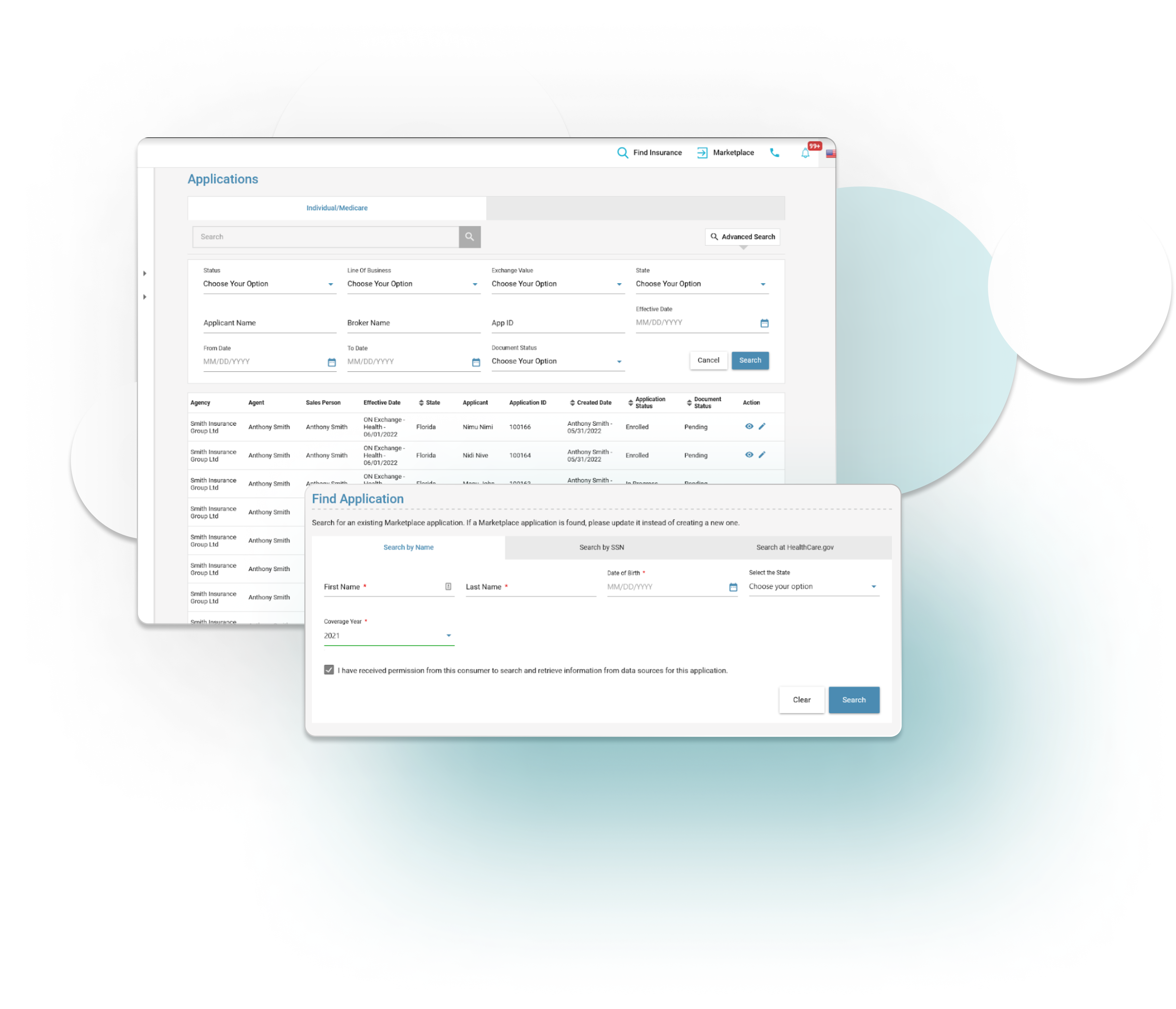 EDE certified platform manages even complex enrollments without redirecting to Healthcare.gov
Auto-import existing Marketplace data to prefill renewals.
Eligibility review and final subsidy confirmation.
Get the full 360-degree view of your customer.
Easily access all customer information from one place.
Import your Book of Business and customer data from other systems – including HealthSherpa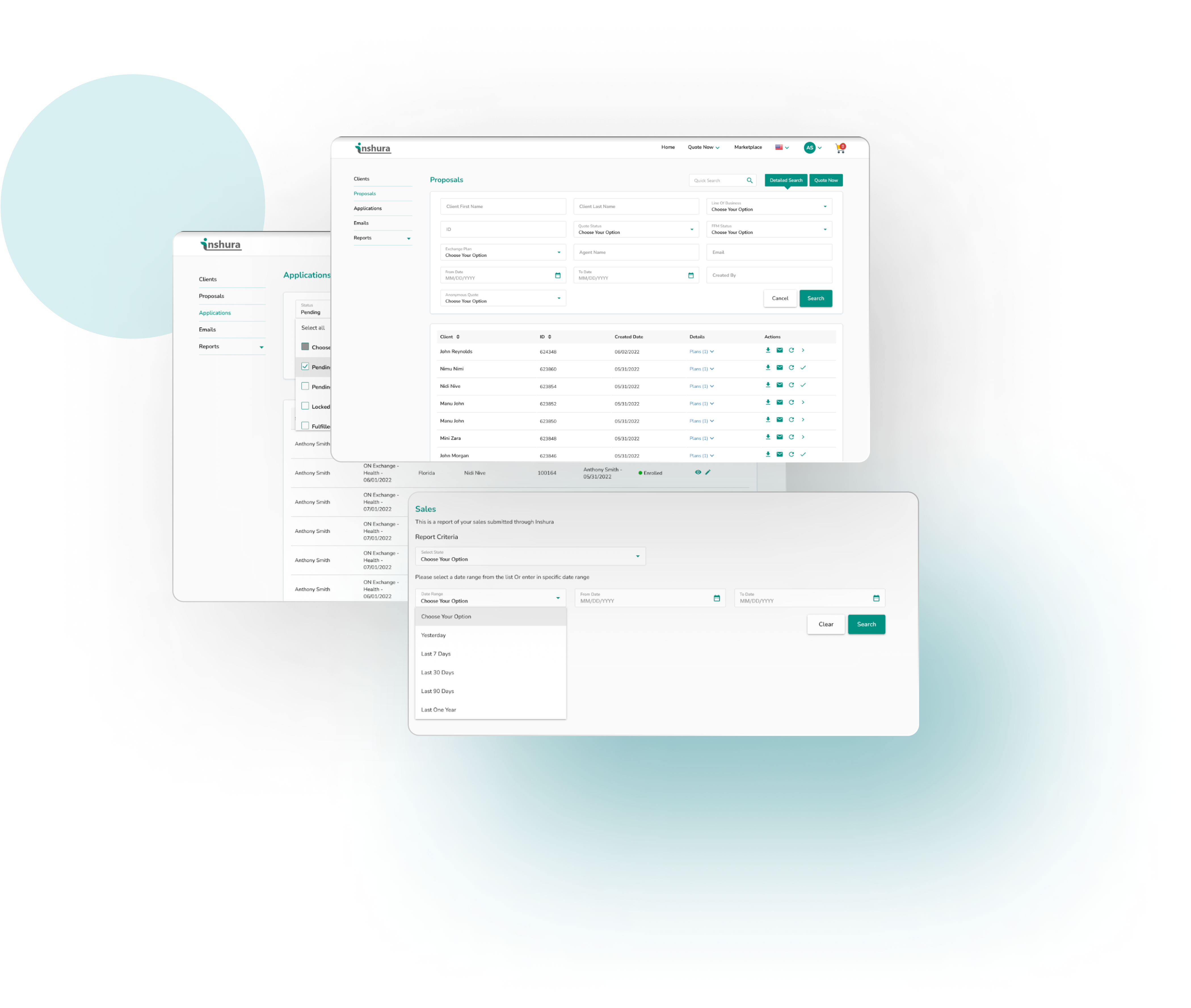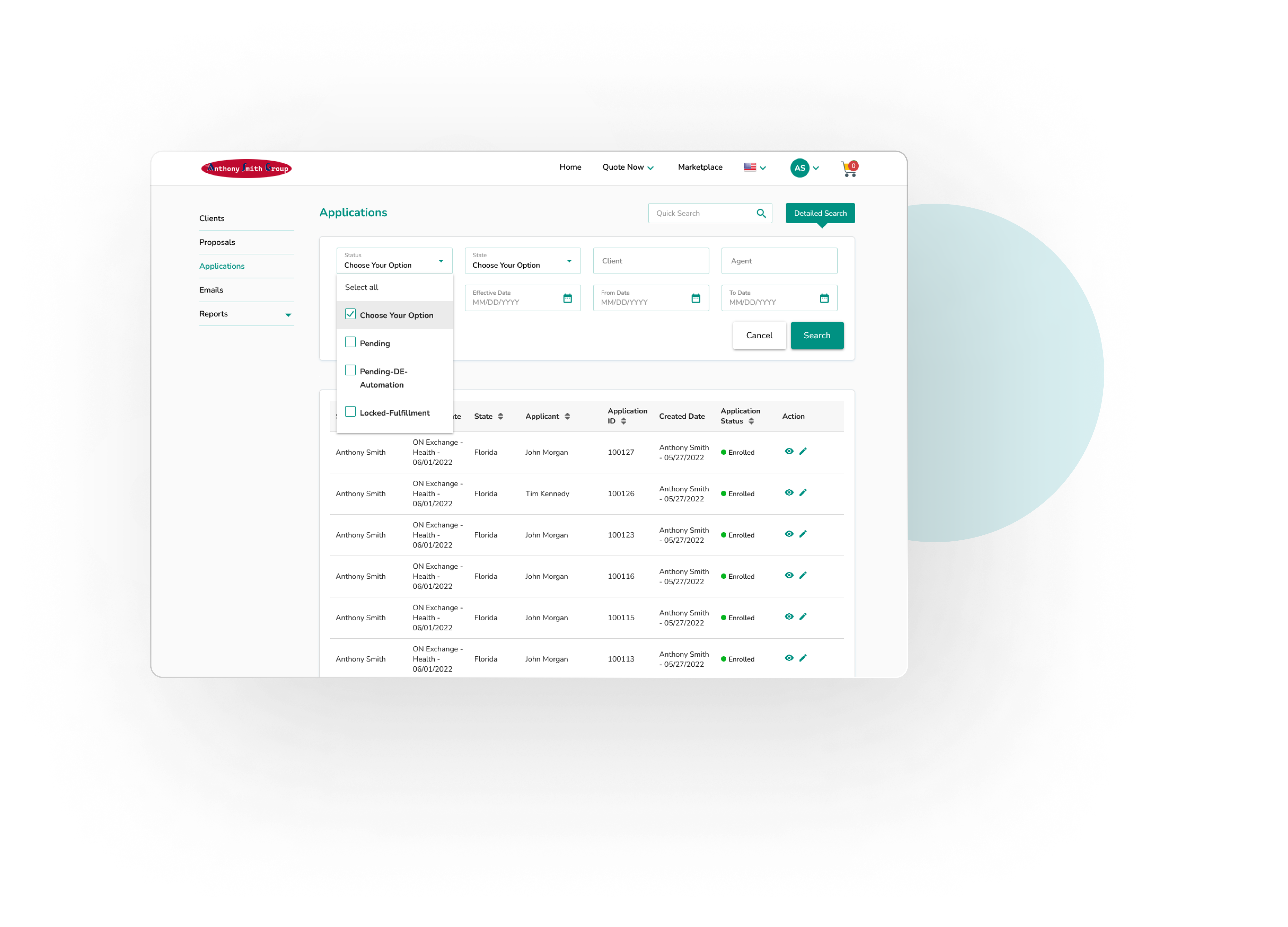 Track your applications and follow up on outstanding items.
Easily make binder payments to effectuate the policy.
Upload documents (e.g., proof of income and citizenship) to the Marketplace.
Change applications or plans in a snap.
Access 1095s and marketplace documentation in one place
Keep your customers in the loop with automated notifications for enrollment confirmation, application status, etc.
Send payment and documentation reminders to keep your customers on track.
Resend communications for added convenience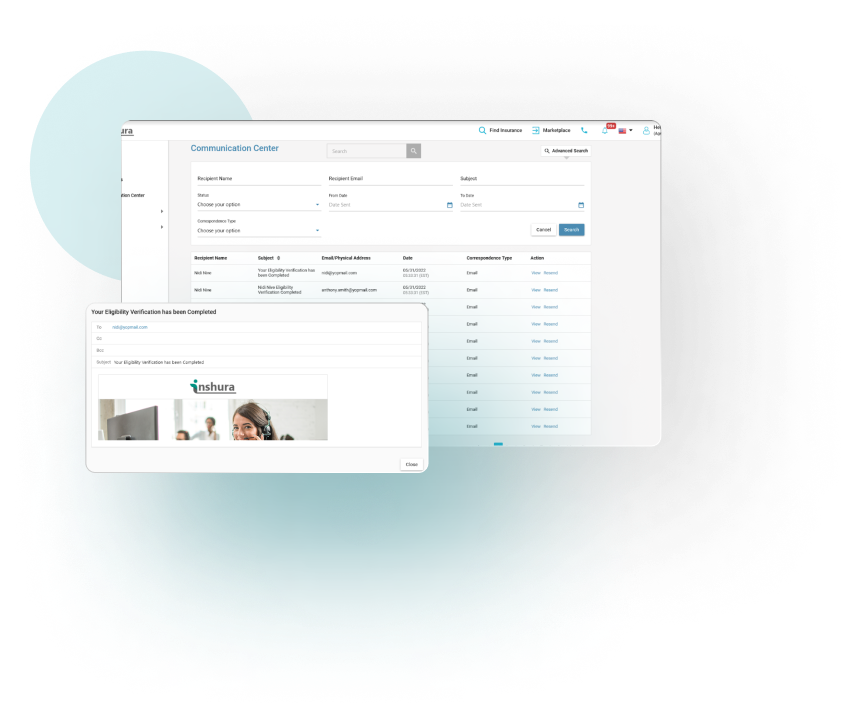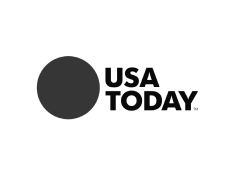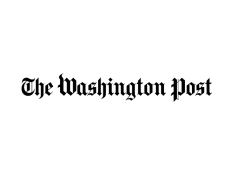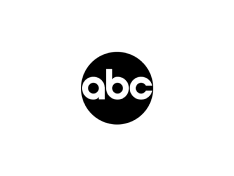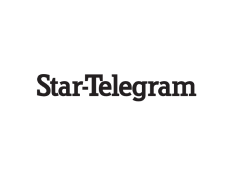 Frequently Asked Questions
If Inshura is free, how do you make money?
We provide inshura for FREE to all Agents and Agencies.
You pay Nothing, Nada, Zip, Zilch. We work with you and provide a large portfolio of insurance products (Completely Optional!) that will help you make more money.
inshura is free, our service is free, and our practical, easy-to-use platform improves your bottom line.
Is Inshura fully integrated with the ACA marketplace?
Yes! We fully integrate with the healthcare marketplace (Healthcare.gov). inshura is CMS EDE PHASE III certified.
Additionally, inshura has full G2 Verisk validation, ensuring safe internet marketing strategies on Google and social media platforms.
Will you reach out to my clients?
No.
Unless you specifically request that we do so for some reason. Our success is based on your long-term business and we work hard to keep that trust. Your business is safe and secure.
What training do I need?
We designed inshura to be so easy that training should be needed.
Just in case, we've included training videos that will jumpstart your success. You can also join our live Webinar training sessions!
And, of course, we're here to help with any questions!
(888) 306-2590
support@inshura.com
Can I transfer my client base from another system to Inshura?
Yes. Check out this Training Video to see how easy it is to import your current Book of Business!
How do I map the carriers that I am appointed with?
In the Carriers Appointments section, simply select your carriers for each State.
Who is the Agent on Record?
You.
Additionally, you can increase your business with inshura and refer business to inshura. We will then be the AOR, but inshura will ensure that YOU remain the main point of contact for all client relationships. Our goal is your success.
Do I get my own personalized webpage?
Yes!
Inshura creates a fully personalized, unique web page for you. You can tailor the look and feel, add your logo, and more! With inshura, you get your own unique Customer Portal!
Plus, all your email messaging is automatically personalized with your Logo, Contact info, everything! (and still no extra fees)
Ready to Enroll more Clients in ACA plans...
at No Charge!